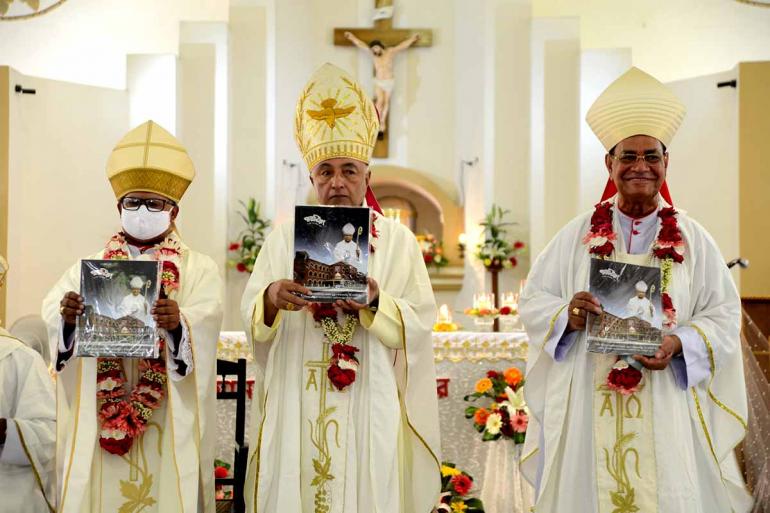 Archbishop Lawrence Subrato Howlader, CSC, has been installed as the new prelate of the Archdiocese of Chattogram in Bangladesh on Saturday, May 22.
The installation rite was held at the Our Lady of the Holy Rosary Cathedral in Chattogram and was attended by Archbishop Bejoy N. D'Cruze, OMI, of Dhaka, president of the Bangladesh Catholic Bishops' Conference, and Cardinal Patrick D' Rozario.
Pope Francis named Bishop Howlader as new archbishop of Chittagong Metropolitan in Bangladesh on February 19. The archdiocese has no archbishop since the death of Archbishop Moses M. Costa in July last year.
Also present during the installation ceremony were Archbishop George Kocherry, apostolic nuncio to Bangladesh, Bishop Gervas Rozario of Rajshahi, Bishop Paul Ponen Kubi of Mymensingh, Bishop James Romen Boiragi of Khulna, Bishop Sebastian Tudu of Dinajpur, Bishop Shorot F. Gomes of Sylhet, and Auxiliary Bishop Theotonius Gomez, CSC.
 
The new archbishop of Chattogram took his motto "Let's enter in the house of the Lord."
Bishop Howlader has been the bishop of the Barisal, Bangladesh, since 2016. 
From 2009 to 2016 he was auxiliary bishop of Chittagong, officially known as Chattogram since 2018.
He was born on Sept. 11, 1965, in Nobogram, Barisal, and was ordained priest on Dec. 31, 1994. He was consecrated auxiliary bishop of Chittagong on July 3, 2009. 
He studied Philosophy and Theology at the Holy Spirit Major Seminary in Dhaka and later obtained a Master's degree in Psychology from the Gregorian University in Rome. 
Because of the pandemic, only a few people were allowed to attend the installation ceremony, including 32 priests, 23 brothers and sisters, and 64 lay faithful.
The juridical territory of Chattogram diocese is spread over nine civil districts, namely: Chandpur, Luxmipur, Noakhali, Feni, Chattogram, Khagrachori, Rangamati, Bandarban and Cox's Bazar.
There are 11 parishes and five sub-parishes in the district.
The Christian faith first arrived in Chattogram in 1518 with Portuguese traders. In the 1600, the first churches were built in Patherghata, Jamalkhan, and Diang under Karnaphuli Upazila. 
The first Catholic priest who arrived in Chattogram was Father Francesco Fernandez, a Jesuit, who was later tortured and killed by the Arakanese. 
In 1845, Chattogram became the seat of "Eastern Bengal Vicariate" and served the greater eastern Bengal being the main center of Catholic Christians. 
Later, the seat is transferred to Dhaka. 
Chattogram was elevated as diocese in 1927, covering a vast area from present Barishal diocese and some parts of India and Myanmar.  - Nikhil Gomez / RVA News