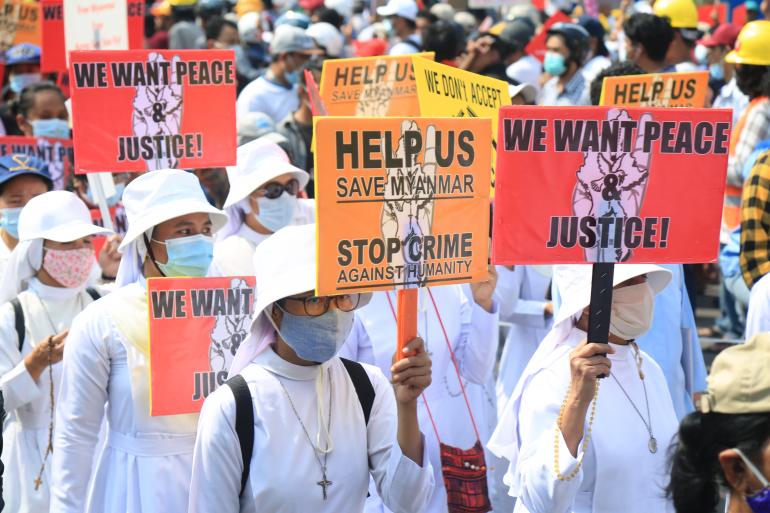 Women in Myanmar have been playing a key role in protest demonstrations against the February military coup.
Many of those who initiated and participated in the protest were women. They called for the military to step down, to release all those who were arrested, including Aung San Suu Kyi, and to restore the democratically elected government.
Ei Thinzar Maung, one of the leading women protesters, has been appealing for support from inside the country all over the world.
"All responsible citizens of Burma have already come out in the streets against the military dictatorship," said Maung. 
She called on everyone "to unite and form an interim government."
"Dear Citizens, please keep fighting," said Maung as she called on "democratic countries across the world" to recognize "a new democratic interim government" once it takes power.
Catholic nuns from across the country have also actively participated in the demonstrations. They hold rosaries while walking in the streets in a religious procession.
One of the nuns who stood against the military is Sister Rose Lasang Nu Tawng who knelt in front of security forces to prevent them from attacking the people.
Today, International Women's Day, is a time to reflect on the progress in the people's call for change and to celebrate acts of courage and determination of women.
Still, legal restrictions have kept 2.7 billion women around the world from accessing the same choice of jobs as men. 
Less than 25 percent of parliamentarians were women as of 2019. One in three women experiences gender-based violence.
Change isn't just about headline moments, legal victories, and international agreements. What we talk about, think, and act on every day can create a ripple that affect that community.
Let's make 2021 count for women and girls everywhere. - Raymond Kyaw Aung/RVA News