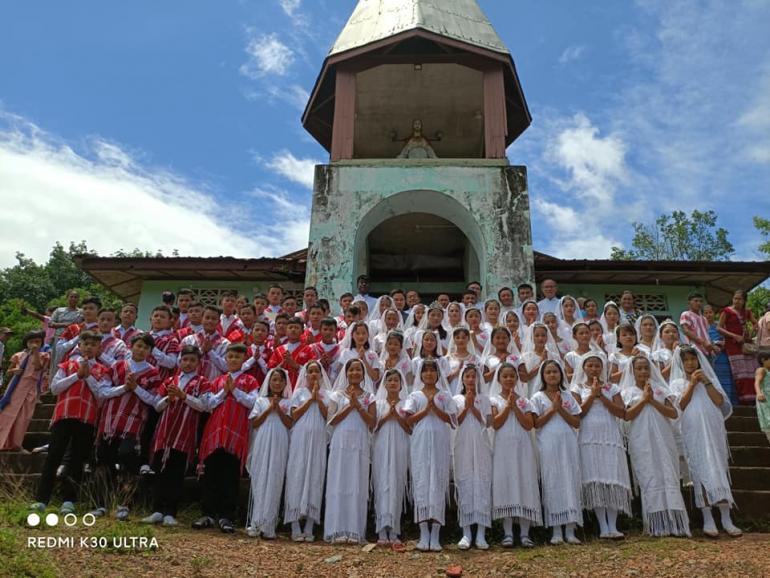 Children from the Karen tribe in Mazaw village in the parish of Myeik, Mawlamyine diocese, received first communion on May 30.
"I am so happy to have received the sacrament for the first time," said Naw Paw Eh Moo, one of the 63 children who received the sacrament.
"I feel like that the Lord comes to me and makes me like an angel," he said.
"I am so proud seeing many children receiving the sacraments for the first time," said Shwe Sein, one of the parents in the village.
"The future of the community will be bright with people having strong faith," he said.
Parish priest Peter Gyi said there is a need to update the teaching of catechism to children, the youth, and even the elderly. 
"The old way of teaching catechism is not so effective," said the priest.
Father Gyi said he spent five weeks to prepare young people for the sacraments for the first time.
Many of the children in area have been brought up in the parish under the care of priests and nuns.
The education of children have been affected by the political crisis in the region. Many of the children are left by their parents in the parish.
Catholic churches in many provinces of Myanmar have been hosting children for years already.
The parish of Myeik is located on the border with Thailand in the east and the Indian Ocean in the west. 
Residents in the area survive mostly on gardening and in rubber plantations. Many families also work as migrant workers in Thailand. - Hubert Saw/RVA News