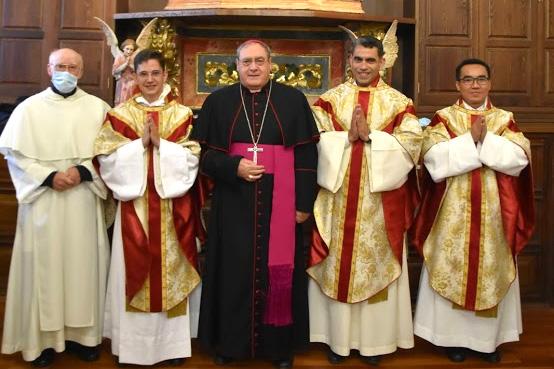 A member of the Order of Preachers, known as the Dominicans, from Myanmar has been ordained priest in Spain on May 24.
Brother Stephen Saw Lej Kapaw Htoo was ordained with two other Dominicans — Brother Marcos from Venezuela and Brother Rafael from Spain — in Sto. Tomas de Avila in Spain
Brother Stephen belongs to the Karen tribe in Phado town, Kyautaga Township, Bago Division, Myanmar. 
"I keep asking myself about my vocation. I wonder whether I will be able to do some good," said the new priest. 
"Definitely, we do not have the exact answers …. It is the Lord who will respond to me as I accept his invitation to follow him," he added.
Father Stephen was a member of the youth organization in the Archdiocese of Yangon when he met the Dominicans who invited him to visit their community.
He was impressed by the congregation's community life to the point that he decided to join the order.
He joined the community in May 2013 and later moved to Hong Kong for his studies and novitiate. He went to Macao for his Philosophical and Theological studies in the University of St. Joseph. He was ordained deacon in December 2020 before leaving for Spain for his priestly ordination. - Saw Hubert/RVA News