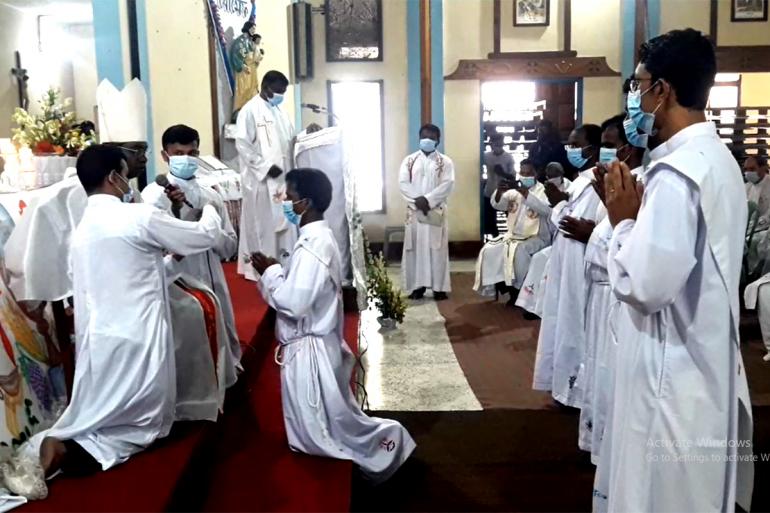 The Diocese of Dinajpur in Bangladesh ordained five priests at the Cathedral of St. Francis Xavier in Dinajpur on June 4.
Bishop Sebastian Tudu of Dinajpur ordained deacons Ruben Hasda, Marchlues Tirki, Nicholas Basra, Nitto Anthony Ekka of the Holy Cross congregation, and Elis Sarkar of the Society of Jesus.
Due to pandemic restrictions, only the parents of the new priests, a few relatives, members of the clergy, and some nuns and parishioners were allowed to attend the ceremonies. 
In his homily, Bishop Sebastian told the new priests that God has chosen them "to preach the Good News."
"You are committed to serving the Church. You will have to obey your duties and you will have to do it properly," said the prelate.
  
He reminded the new members of the Catholic clergy that they took an oath "to be saints and to sanctify others."
"So be holy first and sanctify others," said Bishop Sebastian.
The bishop invited the faithful and families of the new priests to continue their support and love "because they need to draw inspiration in their religious life as human beings."
On behalf of new priests Father Sarkar expressed his "gratitude and thanks to God and to everyone" as he asked for "prayers and support for our holy priestly ministry."
At present, the diocese has 50 seminarians.
The Diocese of Dinajpur, which was created in 1927, has 18 parishes and more than 60,000 Catholics. - Nikhil Gomez / RVA News