Catholic bishop in Thailand's northeast seeks stronger relations with Buddhist community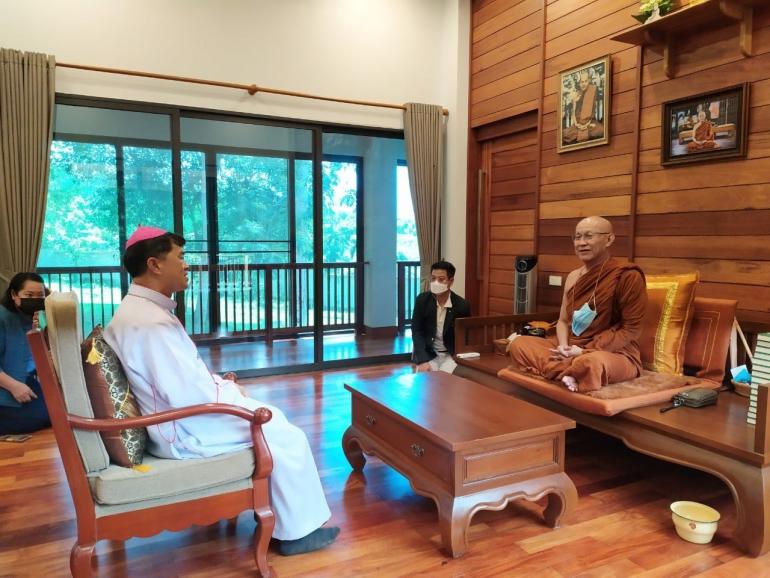 The new Catholic bishop of the Diocese of Sakon Nakhon in Thailand's northeast region met with the Abbot of Forest Monastery to strengthen relations with the local Buddhist hierarchy.
The meeting took place on May 28 when Bishop Anton Viradet Ciayseri visited Sutham Suthammo, abbot of Forest Monastery in Kesetsrikhun in Nong Phai.
The Catholic Church in Thailand is a small entity in the middle of a Buddhist environment. The kingdom is the second Buddhist country in the world after China. 
Among the 69.5 million citizens almost 95 percent are Buddhists. 
Church leaders have repeatedly stressed the need for a "dialogue of life" especially when tension arises in communities. 
There is no friction between Catholic and Buddhists communities because the Thai society is tolerant, but collaboration is needed between the two faith communities.
During his visit to Thailand in November 2019, Pope Francis invited the Thai Church to continue the tradition of dialogue with the Buddhist world.
"No single nation or religious or ethnic group can guarantee itself a future in isolation from or immune to others," said the pope.
He urged the Catholic Church in Thailand to go beyond the "dialogue of life" and establish a new relationship and work together for the good of all society.
"Now is the time to be bold and envision the logic of encounter and mutual dialogue as the path, common cooperation as the code of conduct, and reciprocal knowledge as a method and standard," the pope said. - Domenico Rodighiero/RVA News