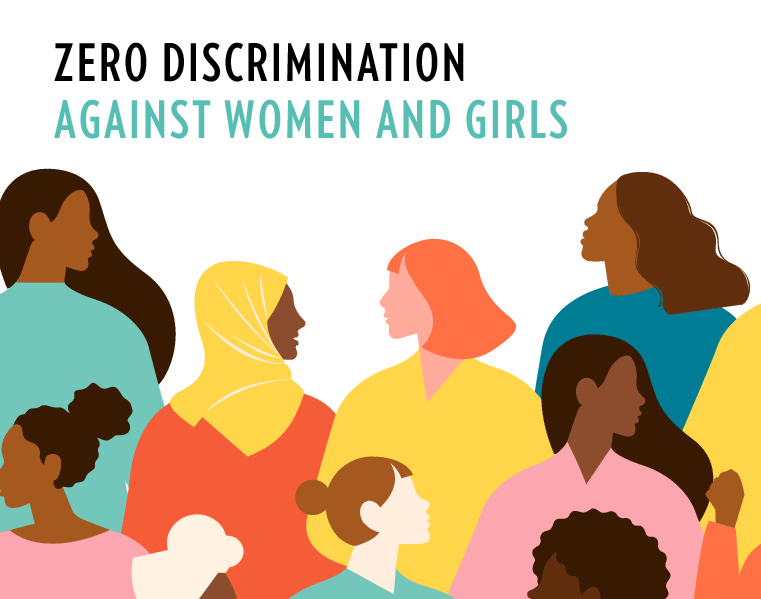 "We will not achieve our vision for health or realize any of the Sustainable Development Goals if we do not confront discrimination" - Michel Sidibé, UNAIDS executive director
Zero Discrimination Day is an annual day celebrated by the United Nations and other international organisations. The day aims to promote equality before the law and in practice throughout all of the member countries of the UN. 
ZERO DISCRIMINATION
On Zero Discrimination Day, UNAIDS is highlighting the right of everyone to be free from discrimination. 
No one should ever be discriminated against because of their age, sex, gender identity, sexual orientation, disability, race, ethnicity, language, health (including HIV) status, geographical location, economic status or migrant status, or for any other reason. 
Unfortunately, however, discrimination continues to undermine efforts to achieve a more just and equitable world. Many people face discrimination every day based on who they are or what they do. 
Discrimination will not disappear without actively addressing the ignorance, practices and beliefs that fuel it. Ending discrimination requires action from everyone. 
Zero Discrimination Day is an opportunity to highlight how everyone can be a part of the transformation and take a stand towards a more fair and just society.
EVERYDAY SITUATIONS
Discrimination is often based on misinformation or fear of the unknown. By looking at people in everyday situations, this year's campaign challenges people to recognize where discrimination is taking place and to take action to stop it. Everyone has the right to enjoy a safe and nurturing environment. Everyone has the right to good health care. Everyone has the right to love who they love.
THE CHALLENGE
The campaign challenges people to inform themselves about discrimination by taking a quiz and sharing it with friends and family. We can all challenge discrimination and spread the knowledge. Ending discrimination is the right thing to do. It is good for our communities, good for the economy and good for the future.
FACTS ABOUT DISCRIMINATION
1. Discrimination is the negative treatment of person or a group of people on the basis of: gender, race, ethnic or national origin, religion, disability, sexual orientation, social class, age, marital status, family responsibilities, etc.
2. Discrimination discourages people from accessing health-care services, including HIV prevention methods, learning their HIV status, enrolling in care and adhering to treatment.
3. One hundred and thirty million Girls between the age of six and 17 are out of school and 15 million girls of primary-school age—half of whom live in sub-Saharan Africa—will never enter a classroom. Every child has a right to education.
4. Out of 143 economies, almost 90% have at least one legal difference restricting women's economic opportunities. Seventy-nine countries have laws that restrict the type of jobs women can do.
5. More than a billion people live with some form of disability. People living with disabilities are four times more likely to report being treated badly by health-care staff and nearly three times more likely to be denied health care.
6. Three of the world's most fatal communicable diseases—malaria, HIV and tuberculosis—disproportionately affect the world's poorest populations, and in many cases are compounded and exacerbated by other inequalities and inequities, including gender, age, sexual orientation or gender identity and migration status.
7. In a survey of 19 countries, one quarter of people living with HIV reported experiencing some form of discrimination in health care.
8. Stigma and discrimination towards key populations is reinforced by criminal laws and other structural barriers, which fuel violence, exploitation and a climate of fear.
9. Sixty-two per cent of men who have sex with men in Kampala, Uganda, reported that they had experienced physical violence in the previous 12 months.
10. Nearly 30% of women globally experience physical or sexual violence by an intimate partner at least once in their lifetime.
11. Seventy-two countries criminalize same-sex sexual relationships. Thirty-two countries retain the death penalty for drug offences and more than 100 countries criminalize some aspect of sex work.
12. All people are equal before the law and are entitled to the protection of the law without discrimination.
13. Keeping girls in school benefits girls, their families and their communities. And yet nearly four out of 10 schoolgirls are made fun of for being female. By the time girls reach secondary school, one in five report that they are "unhappy to be a girl".
14. Discriminating against women affects food production. Women make up 43% of the agriculture workforce in developing countries and yet only 5% are able to access agricultural advisory services.
15. Discriminating against same-sex sexual relationships leaves people vulnerable to violence, arrest and detention and to violations of their right to privacy. Same-sex sexual relationships are criminalized in 72 countries.